Parents go through more than 5.5 million disposable nappies a day in Australia. And while this adds up a lot of nappy changes, it takes time and practice to master. 
Enlisting the help of Emma Enticott, Midwife and Centre Manager of The Babes Project in Frankston, we're bringing you the ultimate guide to changing a baby's nappy with ease. Emma shares her tips for "prepping" your nappy-changing station, plus some handy advice to fast-track your way to simple and stress-free nappy changes. 
The nappy changing essentials you should have on hand
"Before the first nappy change, prepare the nursery with everything you'll need. It will make the first change a whole lot easier!"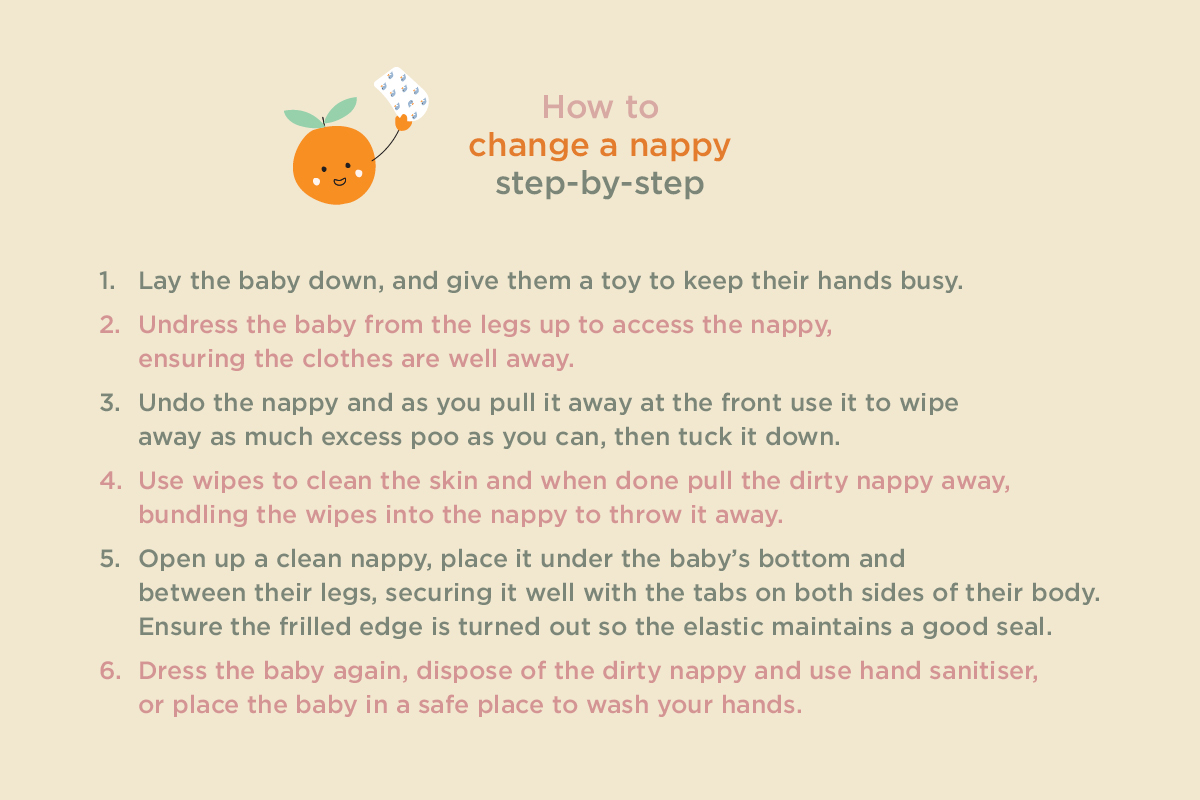 Ask a Midwife: Nappy changing FAQ
When is the best time to change a nappy?
The length of time a nappy can be left depends on the age of the child. For newborns and infants, the nappy should be changed at the end of every feed, especially as dirty nappies may not be smelly and it's important to keep an eye on their output in case of any changes.
How can I change a wriggly baby? 
Babies can be wriggly when they are having their nappy changed but will respond to the routine, and to consistent verbal cues from their mama. It can also help to use a changing table or smaller surface instead of on the floor where they're likely to wriggle towards a quick escape!
How can I calm my baby during a nappy change?
Giving the baby their favourite toy or singing a song or telling a story can help distract them and keep them calm and happy.
Should I change my baby's nappy when they're fast asleep?
Sleepy feeds in the night can be aided by avoiding nappy changes if it is only wet, since nappies are super absorbent. A barrier cream can be applied at night to help protect the baby's skin. Older children can wait longer between changes if the nappy is only wet. Definitely change the nappy if it is dirty, but wait a little while because they need time to finish!
EMMA'S TOP TIP FOR NAPPY CHANGING SUCCESS 
Babies respond well to routine, so try to be prepared, consistent and persistent in your nappy changing routine. Remember: you will get to know your baby best; trust your instincts and do what works best for you and your baby!
NEVER RUN OUT OF NAPPIES AND WIPES
At Tooshies we're taking the hassle out of nappy changes with a flexible subscription service and 100% carbon neutral shipping via Sendle.
Tailor your bundle to suit your needs, or shop our range of eco-friendly disposable nappies and biodegradable baby wipes at Woolworths, Coles, Chemist Warehouse and online at tooshies.com.au.com.
Emma Enticott is a midwife and centre manager at The Babes Project in Frankston. The Babes Project has launched a mama-life journal to help empower and inspire expectant mums. Every purchase helps The Babes Project to support more women through pregnancy and early parenting, across Australia.